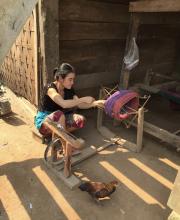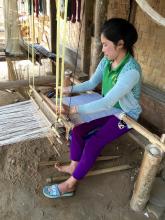 After several months we are back from our travels in Australasia and the Sewing Shed has opened its doors again.
Whilst away one of the many things we have visited is this weaving village in northern Laos. Here nearly every house has a big loom underneath their house on which the women make the most fantastic hand-woven textiles. Here are a few photo's to show you but more on that at a later stage.
Workshops in April 
For now we have got some exciting workshops and the first ones are starting this weekend.
If you have got a sewing machine and you want to know al the tricks your machine can do come to the workshop Get to know your sewing machine on 16th April. Go here to book your space. 
Drop Inn Sessions.
The Saturday Stitch is 16th April and this is where you can enjoy working on your own project with help, guidance and advice along the way. These sessions are for anyone who has sewn before. You can make anything from garments to cushions to copying your favourite trousers. For more info look here.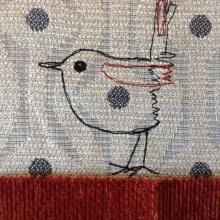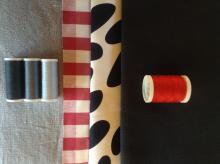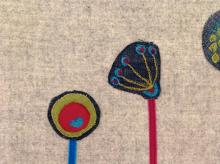 For anyone who would like to learn to sew there is the very popular Sewing workshop for beginners on Saturday 23rd April. At this sewing session you will go home proudly with your finished first project! For more information go here.
Freehand Machine Embroidery 23rd April.
A morning of doodling on the sewing machine. A fun way of drawing and creating your own designs. Making pictures using fabric scraps, colour, texture and line. This Freehand Machine Embroidery class is a great way to draw with your sewing machine and to feel free and creative. It is a wonderful technique which has endless possibilities. For more information click here.
Spaces on the popular Sewing Bee available
There are a few spaces on the ongoing Wednesday morning Sewing Bee. Also known as the Make-whatever-you-like-group. If you are interested please let me know as this group fills up very quickly and spaces are limited. To book or for more info you can ring 0784 685 3016.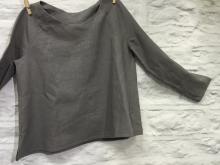 Interested in sewing your own clothes?
Evening course for beginners:
Come and make your own garment, and learn some great dressmaking skills.  6 Monday evenings from 6.30 - 9 pm, starting on the 13th June. Suitable for beginners. Sewing machines available at the Sewing Shed. For more info look here.
Weekend workshop:
If you want to make your favourite garment in 2 days you can sign up for the weekend workshop on 14th & 15th May. For more info have a look here.
Exciting new Saturday Sewing Course starting. 
At this 3 day course we will be making one garment per month. You will get introduced to different many skills and techniques. Starting on 21st May. Click here for more info.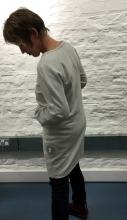 Looking forward to seeing you in the Sewing Shed.
Martha.