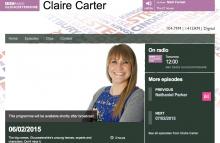 Jess who works at the BBC radio Gloucestershire came along to find out what is going on at the Sewing Shed.
Last Wednesday she popt in, had a look around, chatted with some of the people that come to the weekly class and got very exicted about what she saw.
Listen to the whole interview this Friday 6th February at 12 noon at the Claire Carter lunch time show.
The BBC is  launching a series about different hobbies and hobby groups around Gloucestershire and came to speak to us about why sewing is such a great hobby to have, what benefits it has, why others should take part, etc. 
So don't forget, Friday at 12 Noon! We'll be listening!