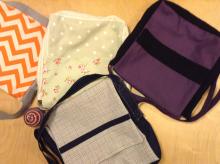 This is one of the exciting projects you get to make on the 7 week intermediate sewing course. 
This is a follow up of the beginners course but also suitable for more experienced sewers. We will be working on a variety of projects to enhance your existing skills. 
Some of the projects we will be covering are button and buttonholes, making a panelled cushion cover with piping and a zip, and more. We will also have a go at making your own bias binding which will be incorporated into a beautifull home made product. Finally we will be designing and making your own messenger bag. All of this we will aim to achieve to a near professional quality finish. For more photo's look here at our facebook page.
As always these classes are conducted in small groups and so your personal needs can be easily met and discussed.
Starting on Tuesday 25th February 6.30 - 9pm. For more details click here.