One of the items that have been made at the Sewing Shed is this beautiful bowl like shape. I love the feeling of fragility that it resembles... It is actually a toil! believe it or not, but what a nice one. Has anyone got any idea what it actually is? If so just let me know here.
Fun with Wool
Come along to this creative and fun gathering. Bring any unused and unwanted woollen items like jumpers, cardigans etc. Learn and inspire each other whilst transforming them into something new and wearable or a decorative piece. Pick up some new ideas, share skills, be part of a lovely group and hang out with like minded minds.
A no-tuition gathering. Please bring some money to cover costs like heat, electricity use of machines/equipment and drinks. Recommended amount is 5 pounds but let this not be the thing that stops you. Monday evening 2nd February 7 till 9 pm. Just send an email here to confirm you are coming.
'Thank you so much for a beautiful two and a half hours!  I always arrive feeling nervous and go away feeling proud and happy. What a gift you give us - with your calm and generous capabilities.'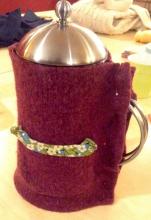 Freehand Machine Embroidery
A morning of doodling on the sewing machine. A fun way of drawing and creating your own designs. Making pictures using fabric scraps, colour and texture. This Freehand Machine Embroidery class is a great way to draw with your sewing machine and feel free and creative. It is a wonderful technique which has endless possibilities. Saturday 31st January 9.30 - 12.30. No sewing experience needed. For more information see here.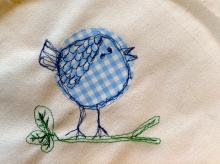 Get to know your sewing machine
Find out what your machine actually can do, what the different stitches are for, why your machine has got all those different feet, etc. And probably one of the most frequently asked questions 'How does the tension work and why have I got all these loops on the back of my sewing".
To find out more look here. Saturday 7th February 9.30 - 12.30.
Saturday Stitch 7th February.
A once a month opportunity to come in with your own project and get help, direction, advice where and when you need it. Projects are extremely varied and you can make what ever you like. Make use of all the equipment and tools that are available at the Sewing Shed. Saturday 7th February from 1.30 till 4.30 pm. For more information and bookings please
go here
. Booking recommended as places are limited.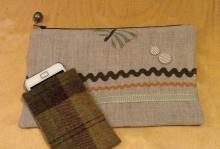 Zippered Pouch: Learn new skills 28th February

At this Saturday morning workshop you will learn lots of new sewing skills such as how to sew in a zip, how to make darts, seams, hems, top stitchings, etc. Learn how to give your work a profesional looking and other tricks. Go home with a useful little zip bag. All materials included in this workshop. Saturday 28th February 9.30 - 12.30. For more info and bookings look here.
Organising your home.
Tripping over scattered little toys that don't seem to have a home?
Come and make fabric toy baskets to go on shelves or drawstring toy bags to hang on hooks...A fabric container to keep anything and everything in its place!.
Suitable for complete beginners. 
Saturday 28th February 1.30 - 16.30.
For more information look
here.