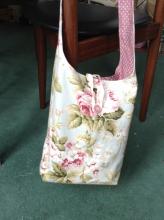 Fancy making this easy-to-sew bag in an afternoon. 
This lined bag is a great size and has enough room for your essentials. 
All materials will be provided and sewing machines available for you to use. Sunday afternoon 22nd June from 1.30 - 4.30. Suitable for anyone who has done a beginners workshop or is a bit familiar with the sewing machine. For more information see

here

.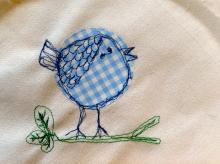 Doodling on the sewing machine.
A morning of drawing and creating your own designs and pictures using fabric scraps, colour and texture. This Freehand Machine Embroidery class is a great way to draw with your sewing machine and feel free and creative. It is a wonderful technique which has endless possibilities. Sunday 22nd June 10 - 1pm. No sewing experience needed. For more information see here.
"I just tried my top on and I love it!! Loving the sewing!"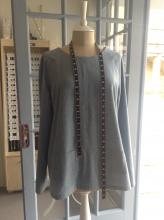 Learn to sew your own clothes for beginners.
Two exciting short courses are coming up.
It is all about using commercial patterns, creating a good fit and learning how to give it a professional looking finish.
You will also learn about sleeves, facings, pockets, hemmings and more and go home with a finished garment.
These courses are suitable for anyone who knows their way around a sewing machine.
There are day and evening courses on offer during June and July. The first 4 week course will start on Monday morning 23rd June and will finish within school term time. Two evening courses will start on Monday 7th and Tuesday 8th July. For more details look here.
"
Thank you so much for yesterday's time, I thoroughly enjoyed myself!" (in response to workshop for beginners)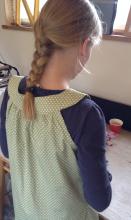 Teenagers making their own clothes.
We had a very enjoyable workshop during halfterm in which everyone made their own summer tunic.
I very much enjoyed working with these keen and enthousiastic makers. We made these tops (see photo above), learning how to use a pattern, make a yoke, how to gather your fabric, work with stiffener and lots more.  Yes, there were some very proud youngsters.
Another teenage sewing workshop coming up after the summer holidays in the next half term. Keep an eye on the website.
Building works at the sewing shed.
As some of you know already the Sewing shed is going to be enlarged! Oh yes, it will finally happen. The cosy shed is going to made bigger during the month July. I have found a very competent carpenter who is willing to take the job on and I have faith he will do a nice job too! Also no doubt I will be the labourer doing all the donkey work!!
That's it for now. If you have any requests for projects or skills you would like to learn please contact me.
Happy sewing and have a good summer.
Martha.