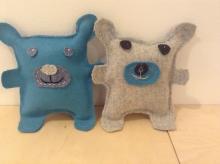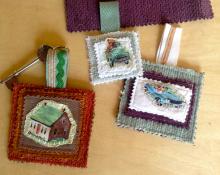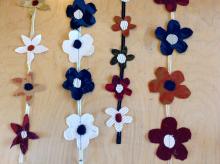 Kids learning to sew in a playful way..
The photo's show some of the projects made by the afterschool kids sewing club that has been happening here every Tuesday afternoon. 
Teenagers making their own clothes..
A group of home educated kids meet every fortnight to make clothes, bags, cushions, tunics for there mum (oh yes) and much more. For more information look here.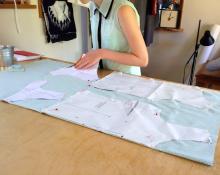 Kids Summer Holiday Sewing 21st July. 
Learn how to make your own clothes. Come and make a tunic top for your self or for one of your friends. A lovely day of sewing and learning new skills with other kids. You dont need to have your own Sewing Machines, we have got some here that you can use. For more info see here.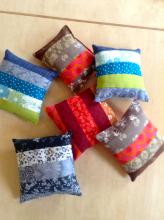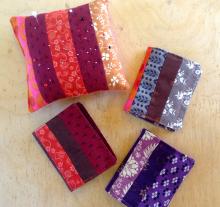 Want to learn to sew?
Last sewing workshop for beginners before the summer break. Only 2 places left! So if you are interested please sign up to avoid disappointment.
First Saturday of the month.. time for Saturday Stitch.
It's time for our Saturday Stitch this weekend on 4th July. Bring any project you would like to work on and get inspired and supported from like minded souls. There is also a Saturday Stitch on the 7th August.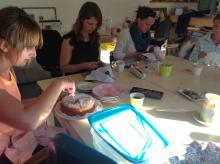 Well earned Tea and Cake..
One of the sewing courses was finished with a fantastic yummy home made Victoria sponge, ever so soft and fluffy, which we all enjoyed very much. Everyone completed an A-line skirt with zip, darts and waistband and a sleeveless top, just right for this sunny weather. So a well earned piece of cake i would say. Below is one of the skirts made at this course for beginners and for more photo's have a peep here.
Happy sewing and hope to see you in the Sewing shed.
Martha.