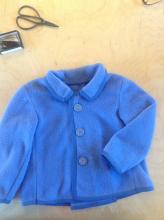 At this once a month stich and sewing session you will be able to work on projects of your own individual choice and your own level. This can be a quilt, clothes, adjusting a pattern or making a bag or any other thing you like to work on. Basically, you can pretty much work on anything you like.
Guidance, advice and support will be readily available when and at what stage you need it.
You can make full usage of the equipment and machinery that is available here.
Maximum of 6.
Coffe and tea included.
When: Saturday 13th December.
Where: at the Sewing Shed, Uplands, Stroud.
Time : 1.30 - 4 pm.
Cost £20.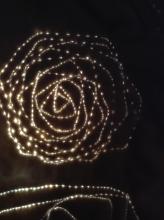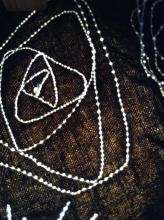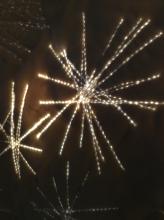 Experimenting with Textiles, Stitch and Lights.
Here is some of my latest work. I have been creating patterns with stitch and exploring the effect when you add lights.  And this is the result! I'd rather like the it as  it reminds me of this time of year.
For some of you who signed up see you at the Saturday Stitch.
Martha.