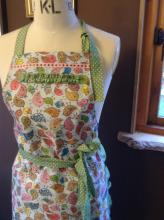 If you like cooking or baking this might be the right apron for you.
It comes with a decorative ruffle on the edges and a embellishishing detail on the front.
Maybe a present for a friend or family member just in time for christmas... 
When: Saturday 14th December.
Where: at the Sewing Shed, Uplands, Stroud.
Time 9.30 am - 12.30 pm. 
Cost £30.00.
Interested...for any questions just get in touch by email.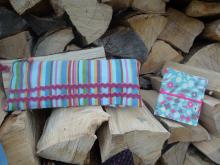 Sewing course for beginners.
Due to big demand there will be a new beginners course starting Tuesday evening 7th January 2014 from 6.30 - 9 pm.
Basic skills that we will be covering are: Threading up, tension, seams, seam finishing, hems, darts, lining items, using and making a simple pattern, sewing a basic zip and more.
Just look at courses for more information.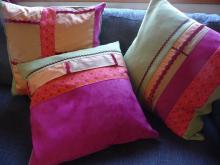 New intermediate sewing course. 
This new Intermediate Sewing Course will be starting on Monday evening 6th January 2014 from 6.30 - 9pm and will last for  7 sessions.
Some of the skils we will be covering are making a piped cushion cover with a zip, button and buttonholes, blind hems, and more.
This will be a follow up of the beginners course.
Just look at courses for more information.
Creative Textiles Workshop 25th January 2014
At this Saturday Workshop we will be exploring textiles through different techniques, i.e. pouching, gathering, layering, manipulating, unraveling, slashing, stitching, hand embroidery, etc.
We will work with colour, texture and composition.
It is an exploration of combining different textiles together with beads, sequins, wool, threads, ribbons, buttons, braids etc.
For more information just look at courses.