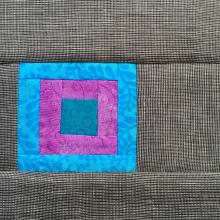 Sewing course for beginners:
Learn practical skills and creative techniques
A Sewing course suitable for beginners and anyone who wants to brush up on their existing skills. We will cover a wide range of techniques and methods that are usable for dressmaking, interior design and more creative handmade projects. These skills are taught through a variety of hands-on projects, demonstrations and guided supervision. 

 The knowledge and expertise you gain will be:
- Getting total controle of the sewing machine.
- Mastering a variety of seams, stitches and finishings.
- Experiment with colours, pattern and fabric properties.
- How to sew zips, buttonholes, corners, curves and darts.
When: Friday afternoon Starting 4th May - 29th June 
Where: Sewing Shed Stroud.
Time : 1 pm - 3.30 pm
Cost: £159