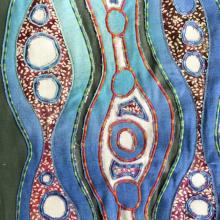 Hi everyone,
Here is to let you know that all classes, courses and workshop that were previously postponed due to covid will be starting again after 17 May. 
If you are ready to book a space please have a look at the website for dates and times.
I look forward to welcoming you to the Sewing Shed Stroud very soon.
Work from students from the Online Course:
I have added photo's of the work we did on the online course during lock down.
At this course we've been exploring with reverse applique. After our initial piece of work which gave us the basic understanding of the principle of this technique we started to build up the extra layers, cut away excess fabrics, experimented with different patterns, added extra stitch and tried out different colour arrangements.
As you can see everyone's work looks very different.  
Best wishes, Martha.