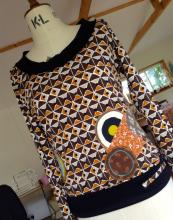 Want to see the latest that's been happening at the Sewing Shed? Visit our Facebook page.
New 6 weeks Dress making course.
Come and make your own tunic top, and learn to sew in sleeves. The dressmaking skills that we will be covering are: seams, seam finishings, hems, darts, sleeves. We will be working with facings and stiffener. We will also explore things like sewing on buttons and button holes, discussing fabrics, their qualities and different usages and tips on how to cut fabric and layout patterns and more.
6 Monday evenings from 6.30 - 9 pm, starting on the 15th June. Sewing machines available at the Sewing Shed. For more info look here.
'Thank you so much for a beautiful two and a half hours!  I always go away feeling proud and happy.'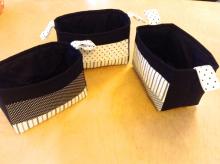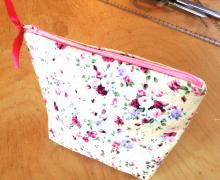 Make a lined make-up or wash bag.
Spend a Saturday morning making and sewing. You will learn lots of new sewing skills such as how to sew in a zip, how to make darts, seams, hems, top stitchings, etc. Learn how to give your work a professional look and go home with a useful little zip bag. £30 and all materials included in this workshop. 
Saturday 13th June. 9.30 - 12.30. For more info and bookings look here.
Baskets and Bags: Organising the Home.
Tripping over scattered little toys that don't seem to have a home?
Come and make fabric toy baskets to go on shelves or drawstring toy bags to hang on hooks...A fabric container to keep anything and everything in its place!.
Suitable for complete beginners. Saturday 13th june 1.30 - 16.30. 
For more information look 
here.
'What a gift you give us - with your calm and generous capabilities.'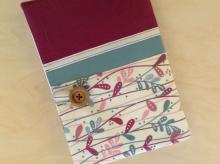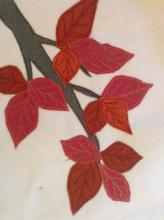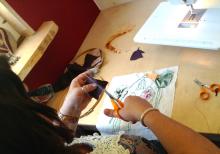 Make a personal Book Cover. 
Personalise a standard notebook as you can customise it and make it into a very individual and one off present for your self or a dear friend!. We will be working with pattern, colour, texture and how to embellish. Saturday 27th June 9.30 - 12.30. For more info see here.
Freehand Machine Embroidery
A morning of doodling on the sewing machine. A fun way of drawing and creating your own designs. Making pictures using fabric scraps, colour and texture. This Freehand Machine Embroidery class is a great way to draw with your sewing machine and to feel free and creative. It is a wonderful technique which has endless possibilities. Saturday 27th june 13.30 - 16.30. No sewing experience needed. For more information see here.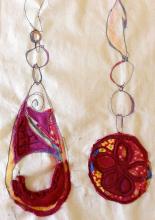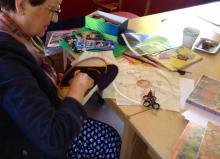 'All Stitched Up'.  
We had a very productive, enjoyable and creative day. At this day workshop we used and blended a variety of techniques, skills and materials to create interesting experiments. The work produced will inspire and lead on to new avenues or could be admired as finished pieces. For more photos go to our Facebook page and admire and get inspired your self...
Happy sewing, Martha.