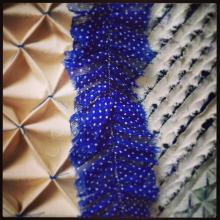 As part of the Stroud International Textile Festival we are offering this workshop, an introduction into fabric manipulation. 
We will be using a combination of structural and organic patterns to pleat, stitch, fold, cut and gather creating a variety of exciting textures and interesting 3 dimensional shapes. After a structured start you will have time to experiment and create your own fabric. These samples can be used as the focus for a cushion cover or mounted up for greeting cards.
All the techniques on offer are adaptable for all levels.
When: Saturday 29th April.
Where: at the Sewing Shed, Uplands, Stroud.
Time 10 am - 4 pm.
Costs £55.