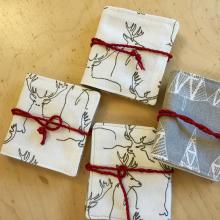 Our last Sewing Day for Beginners this year.
Learn new skills in a fun way and enjoy the process of making at this Sewing Day for Beginners. Indulge your self in a whole day of sewing THIS Saturday 10th December and there is also one on the 28th January. It is still in time to make some lovely last minute presents

.

 Both workshops are ideaal for beginners.
This is what others said about the Sewing Shed Stroud courses:
Thanks again, for the wonderful Beginners workshop. I really enjoyed it and learnt so much.  I took the cover off the sewing machine that had been sat at the back of my work table for 3 years untouched and discovered I can use it now!  Repaired something that had been waiting a year for me to do.  So really pleased.