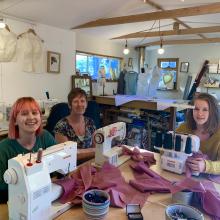 Hi everyone, 
Hope all of you are well. I wanted to share some good news with you as I think we can all do with a bit of that. In these strange times, even though the social distancing, I feel we are actually much more connected than we think and I see a lot of good things coming out of this difficult situation.
As you might know I had to postpone all workshops and classes and suddenly found myself without any work and also without direction. Someone mentioned the uniform shortage at our hospitals and so I got involved in sewing for the NHS. I motivated my teenage daughters and our fantastic local sewing shop Sew and So very kindly donated fabric to us and off we went.....making Scrubs for the NHS....and I felt so pleased I could use my skills to offer help. We even made it to the front page of the local Stroud News and Journal. Here we are…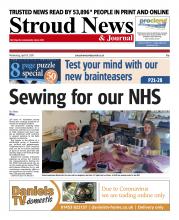 To read the whole article please follow the link to the SNJ. There are many more photos of Sew and So's donated fabric, photo's of the made scrubs and my daughters and me in action making scrubs on the Sewing Shed Stroud Face book pag.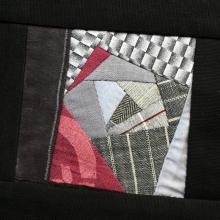 Live online classes on Thursdays from 10am - 12 noon.
Since the lock down I have been experimenting a little with offering a live online class via zoom on Thursday mornings. 
So far we have just finished our first block of 3 sessions and it seems to work quite well. We made some great looking lined zipper bags and there is an appetite for more. So this time will incorporate a combination of creative skills and technical sewing. We will be making squares using a creative quilting technique using a limited colour pallet of 2 colours. These 3 squares will be the focus of our lined shopper bag, sturdy enough to hold our groceries and all made of fabrics that one got at home like jeans, other trousers or curtains.
This is suitable for anyone who has got basic sewing skills.
Thursday mornings from 10 am - 12 noon.Spaces are limited and cost are 15 pounds per session but please let this not discourage you. Just come and talk to me. If any of you are interested please let me know.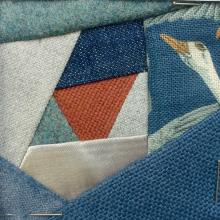 In the mean time,
...stay safe and keep sewing. Enjoy the weather and the garden if you have one. I would love to see if you managed to do any sewing or making...although I know some of you are working and home-edding kids so that can be very full on. Big clap!!! Any way if you have done some making I'd love to see what you've made. Send some photo's and I will add them to the next newsletter.
Martha.