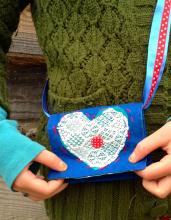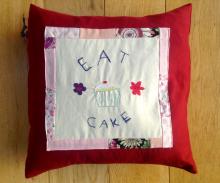 After school Sewing for Kids.
This 6 week course is a great and fun way to get your kids to learn the love for sewing. We will be making simple and fun little projects that are relevant to the kids. They will be learning new skills and gain confidence in using the sewing machine, mix and match fabrics, make lots of different projects. All materials included. 
Starting Tuesday 14th April. For more info look here.
Fun with Wool: Free gathering.
Come along to this creative and fun gathering, bring any unused and unwanted woollen items like jumpers and cardigans etc. 
Learn and inspire each other whilst transforming them into something new and wearable. 
Pick up some new ideas along the way, share skills, be part of a lovely group and hang out with like minded creative minds.
This cafetière warmer is made of one of my old sparkly jumpers.
Tuesday 14th April. For more info look here.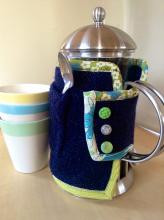 Dressmaking for Beginners
On this exiting new beginners course you learn skills in a way that is inspiring and fun. There are seven classes in total, with each one lasting two and a half hours.
You will be gaining the basic skills and create simple and nice pieces. We work in small groups so there is enough opportunity for support, guidance and questions.
Starting Tuesday 21st April at 6.30 - 9pm. For more info and booking look here.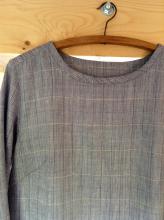 Saturday Stitch.
At this once a month stitch and sewing session you will be able to work on projects of your own individual choice and your own level. This can be a quilt, clothes, adjusting a pattern or making a bag or any other thing you like to work on. Basically, you can pretty much work on anything you like.
Next Saturday Stitch is 18th april at 1.30. For more information look here.
Getting to know your sewing machine.
Bring in your own sewing machine and get to know how the tension works and what to do when it goes wrong. What all those feet are for, the purpose of the different stitches, etc. We will cover all this and more.
Next workshop is 18th April at 9.30. For more information and bookings go here.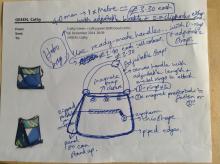 What has been happening at the Sewing Shed lately.
Sewing Shed offers exciting workshop as part of the International Textile Festival.
'All Stitched Up' is a new and exiting workshop specially designed for the Festival. An exploration with machine and hand stitch, texture, colour, pattern to create an experimental peace inspired by childhood memories. This workshop is on 23rd May at 10 am. More information to follow soon or for booking go here.
Designing her own bag..
Kate has been coming in to enjoy her individual sessions to work on her bag. Her own creations slowly taking shape and so far it looks very good with pockets and zips on the inside and out. Here are the sketches and soon I will be able to show you the finished article. Watch this space.
Sew-whatever-you-like-group.
At the this weekly group some things seem to have changed a bit. There appears to be a creative and experimental flow in the air lately. A combination of different techniques are used and here are some of the exiting fruits of our labour.