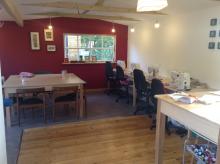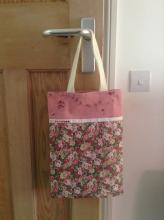 Sewing Shed transformed into delightful studio.
After lots of hard work the Sewing Shed is transformed into a lovely space with loads of room for sewing machines, cutting tables and plenty of natural light. We even have a few of the slad valley! Needless to say that I am a very happy and a grateful user of this beautiful space.
Sewing workshop for compleet beginners 
are on offer every first saturday of the month. Look
here
for

more details.
Saturday Stitch. 22nd November.



A new group starting on Saturdays once a month to work on your own projects, get support and advice, make use of the sewing machines and workspace. You can make whatever you like such as your own clothes, christmas presents, bags, adjusting patterns, quilting, or any other creative project. We will be starting at 1.30 till 4 pm. For more info see here.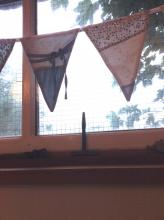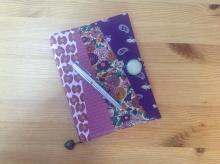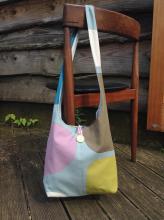 Creative Bunting using Upcycled Fabrics. 
We will be playing with fabrics, colours and textures using quilting and other techniques and going home with your own individual bunting. Saturday 8th November pm. For more info go here.
Journal cover. Great Christmas gift. 
Personalise a standaard notebook as you can be costomise it and make it very individual. Saturday 22nd November 9.30 - 12.30. For more info see here.
Make a shoulder bag for Christmas. 6th December
Make this handy shoulder bag in an afternoon. for more info look here.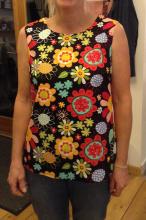 New dressmaking course for beginners
Another 7 week evening course starting 4th November. 
Come and learn how to make a skirt that fits your individual shape. Learn to adapt the pattern for future use and learn many more skills. For more info or to book go
here.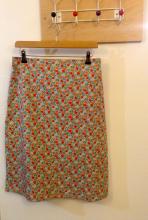 Intermediate dressmaking course starting on monday 4th November.  
This is for anyone who has enjoyed the dressmaking for beginners course and likes to know more. We will be going into more detail and covering more ground. A perfect follow-up from the beginners course. For more info see here.

Dressmaking at Herringbone in Nailsworth
Interested in making a simple and versatile dress in 4 weeks. Also enough time to customise and make it individual if so desired. For more info see here.
Dressmaking Weekend 15th & 16th November.
Come and make your own top/tunic in a weekend. Sew in sleeves, darts, facing, etc. For more info go here.